The Old Quarter, "Where Lyrics Still Count"
Suite au passage de l'ouragan Ike dans le Golfe du Mexique, le club The Old Quarter, lieu légendaire de la scène des songwriters du Texas tenu par Wrecks Bell s'est retrouvé sous près de 3 mètres d'eau…
Pour reconstruire et relancer son activité, Wrecks a besoin d'aide. Ses amis Vince Bell (pas de lien de parenté) et Sarah Wrightson ont mis en place un plan de soutien financier. Tous les donateurs recevront une copie de Recado, le dernier album en date de Vince, quel que soit le montant.
Un long article (5 pages!) sur Wrecks et l'histoire du Old Quarter est disponible sur le site de Houston Press. Ces photos l'illustrent.
Although he always called him Rick, Wrecks was one of Lightnin' Hopkins's favorite bass players!
Le Old Quarter de Galveston a remplacé en 1996 le Old Quarter de Houston, où a notamment été enregistré l'indispensable Live at The Old Quarter de Townes van Zandt. Wrecks Bell a accompagné Lightnin' Hopkins à la basse, était l'ami de Blaze Foley et est le sujet de Rex's Blues, repris depuis par tout le monde, de Son Volt à Guy Clark, de Steve Earle à David Olney, de James McMurtry à Rambling Jack Elliott.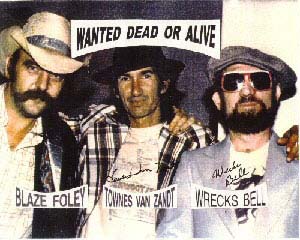 Sans notre aide, le Old Quarter ne se relèvera pas.
L'adresse Paypal est la suivante :
Nom : Sarah Wrightson

Compte : vince_bell@vincebell.com
Indiquez vos noms et adresse pour recevoir le CD de Vince.
MP3 : Rex's Blues/Snowing on Raton (Townes van Zandt) par David Olney & Thomm Jutz, La Pomme d'Eve, 11/29/04

MP3: Rex's Blues, (Townes van Zandt), par Ramblin' Jack Elliott avec Emmylou Harris & Nanci Griffith (album Friends of Mine, 1997)
Rex's Blues (Townes Van Zandt), performed by Wrecks Bell with Gary Reagan
"Ride the blue wind high and free,
she'll lead you down through misery.
Leave you low come time to go,
alone and low as low can be."
"Rex's Blues," Townes Van Zandt